Eizo RX370 3MP Monitor – Improve Your Image Reading Experience
In today's world, the tasks involved in image reading have become more diverse and demanding, increasing the workload for radiologists. To address this issue, Eizo offers a comprehensive solution that improves work efficiency across various scenarios, such as quality control and connectivity options, in addition to delivering exceptional image quality.
Transform Your Eizo RX370 Image Reading Process with Work-and-Flow Technology
Radiologists have to view a growing volume of information on their screens due to the digitalization of various imaging modalities. The unique Work-and-Flow technology from Eizo streamlines the imaging workflow by providing new features that meet the radiologists' needs. Users can now take advantage of these Work-and-Flow functions with the RadiForce monitor and RadiCS LE software bundle.
Enhance Image Viewing with the Instant Backlight Booster
The Instant Backlight Booster function temporarily boosts the brightness of the monitor, allowing users to easily view intricate medical images. A single hotkey activates the function for multiple monitors, providing high-brightness conditions to view multiple screens simultaneously. However, note that DICOM Part 14 is not supported when the Instant Backlight Booster is on.
The newest addition to the Eizo RX370 3mp diagnostic monitor line!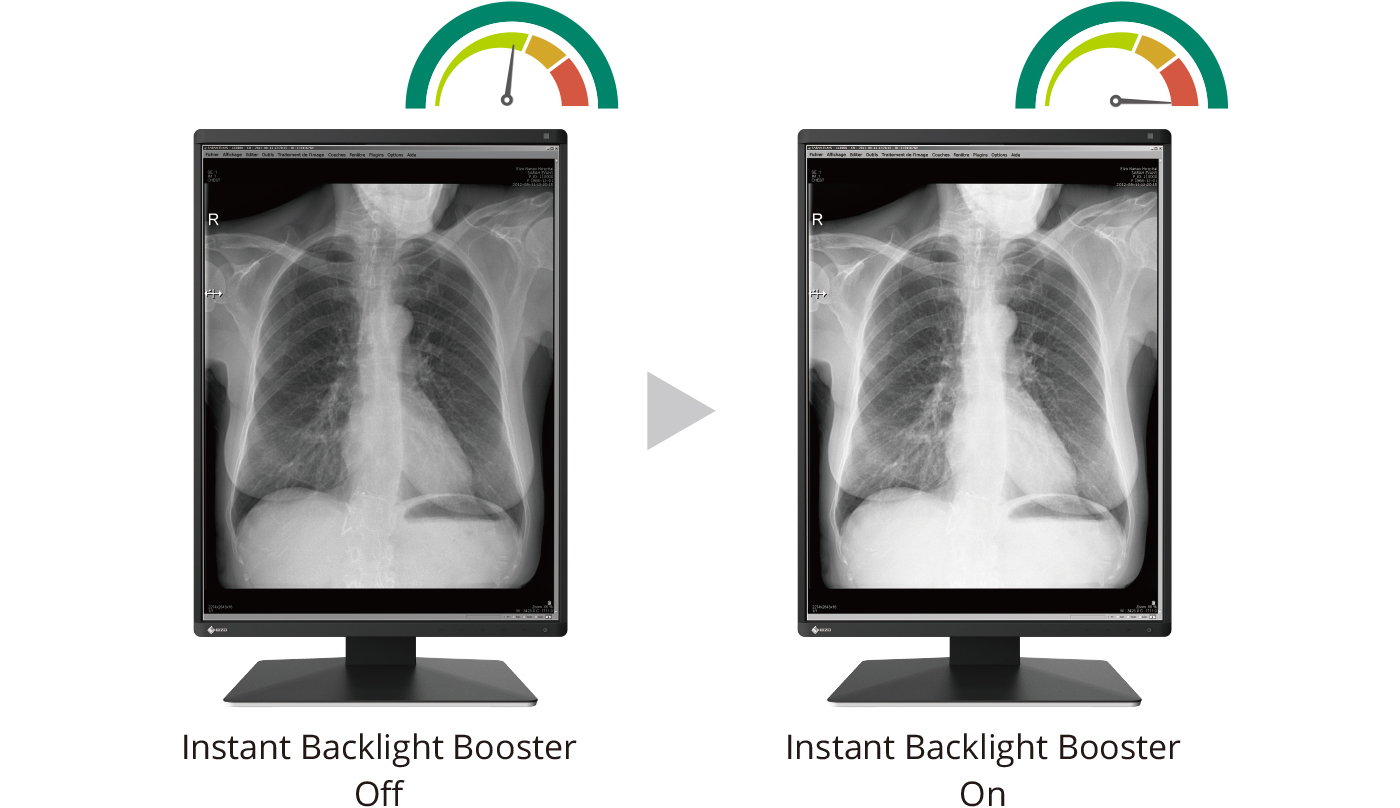 With the Eizo RX370 Experience a seamless and barrier-free workstyle with the innovative Switch-and-Go function. With just one mouse and keyboard, you can effortlessly operate two different workstations simultaneously. Move your cursor across multiple monitors or switch signals between workstations without having to constantly change your equipment, saving you time and increasing your productivity. With this revolutionary technology, you can simplify your workflow by reducing the number of monitors needed, allowing for greater efficiency in your daily tasks. Enjoy a more flexible and effortless way of working with Switch-and-Go.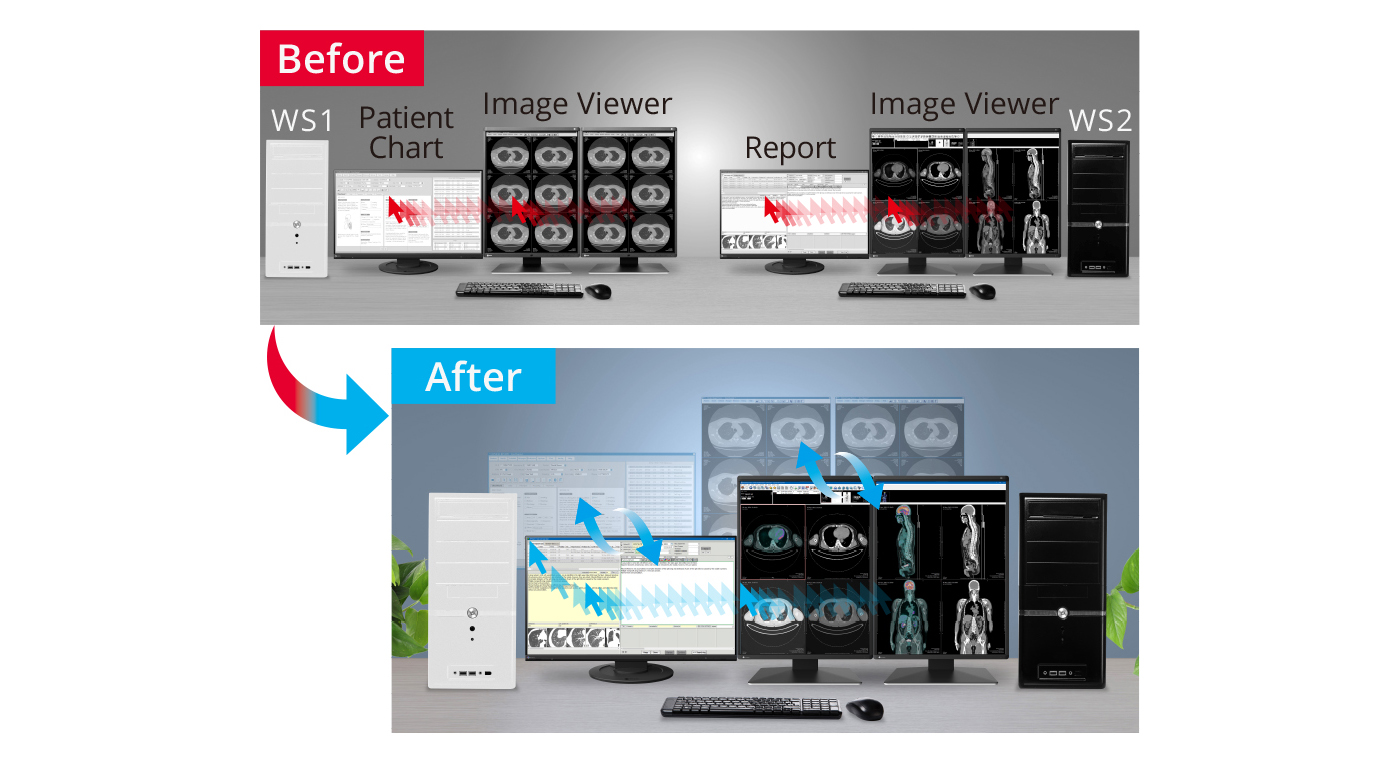 Introducing RadiLight – the innovative attachment for your RadiForce monitor that offers gentle illumination and eye relief. With RadiLight, you can say goodbye to eye strain caused by a bright monitor in a dimly-lit room. The light gently illuminates the wall behind the monitor, providing a soothing backdrop for you to focus on. Additionally, RadiLight prevents screen reflections, ensuring an optimal reading experience for radiologists. What's more, this amazing device can be attached directly to your monitor without taking up any additional desk space. Get your RadiLight today and enjoy a comfortable, hassle-free work environment.
| | |
| --- | --- |
| | |
With the Hybrid Gamma PXL function, you don't have to worry about your monochrome and color images appearing distorted on your screen. Each pixel is given the optimum grayscale, automatically differentiating between the two types of images. Your CR and DR images will be displayed with the ideal grayscale, while color images from endoscopy, nuclear medicine, 3D rendering, and fusion imaging will be faithfully reproduced according to Gamma 2.2. This saves time and effort as both monochrome and color images can be viewed efficiently on one screen without any compromise on quality.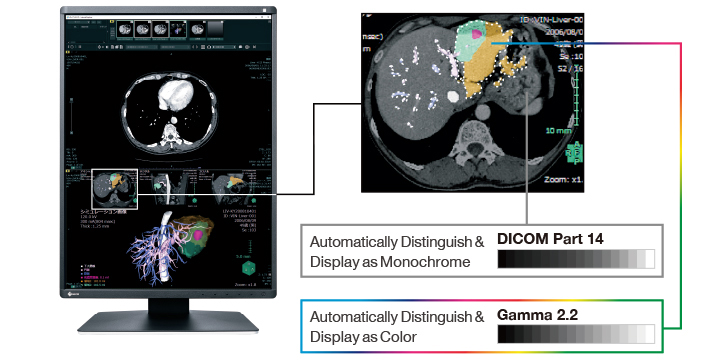 The RadiForce monitor with Hybrid Gamma PXL underwent a visual assessment at Kumamoto Chuo Hospital in Japan. Results showed that the use of the function improved display quality by 37% compared to a color monitor without Hybrid Gamma PXL. Furthermore, the function was found to perform equally as well as monochrome monitors with GSDF when presenting monochrome images.
EIZO's 3MP medical monitor is designed to meet high performance standards, which necessitates high brightness levels. However, increasing pixel aperture ratio to achieve high brightness often leads to a decrease in sharpness, which can negatively impact image quality. With EIZO's proprietary Sharpness Recovery technology, sharpness is restored even at high brightness levels. This ensures that images displayed on the monitor are true to the source data. MTF, which measures how accurately panel displays details from the original image data for viewing, improves by more than 50% when Sharpness Recovery is activated.

Experience accurate medical diagnosis with EIZO monitors, designed with factory-set compliance with DICOM Part 14. The innovative drift correction function guarantees consistent brightness and compensates for variations caused by time and temperature changes, ensuring precise reproduction of medical images. Choose EIZO for a reliable solution in medical diagnosis.
This convenient connectivity solution, designed to simplify multi-monitor configuration hassle-free. By utilizing the DisplayPort connection, you can easily drive several monitors in a daisy chain sequence, eliminating the need for excessive cabling and reducing clutter. Simply ensure that you have a graphics board that supports daisy chain, and enjoy the seamless configuration process for your multi-monitor setup.
Compatibility between RadiForce monitors using DisplayPort daisy chains


Elegant Cabinet Design
The black front bezels are ideal for viewing the screen in dark reading rooms, making it easier to focus on images, while the original white stripe around the sides and curves on the back present an elegant and clean aesthetic.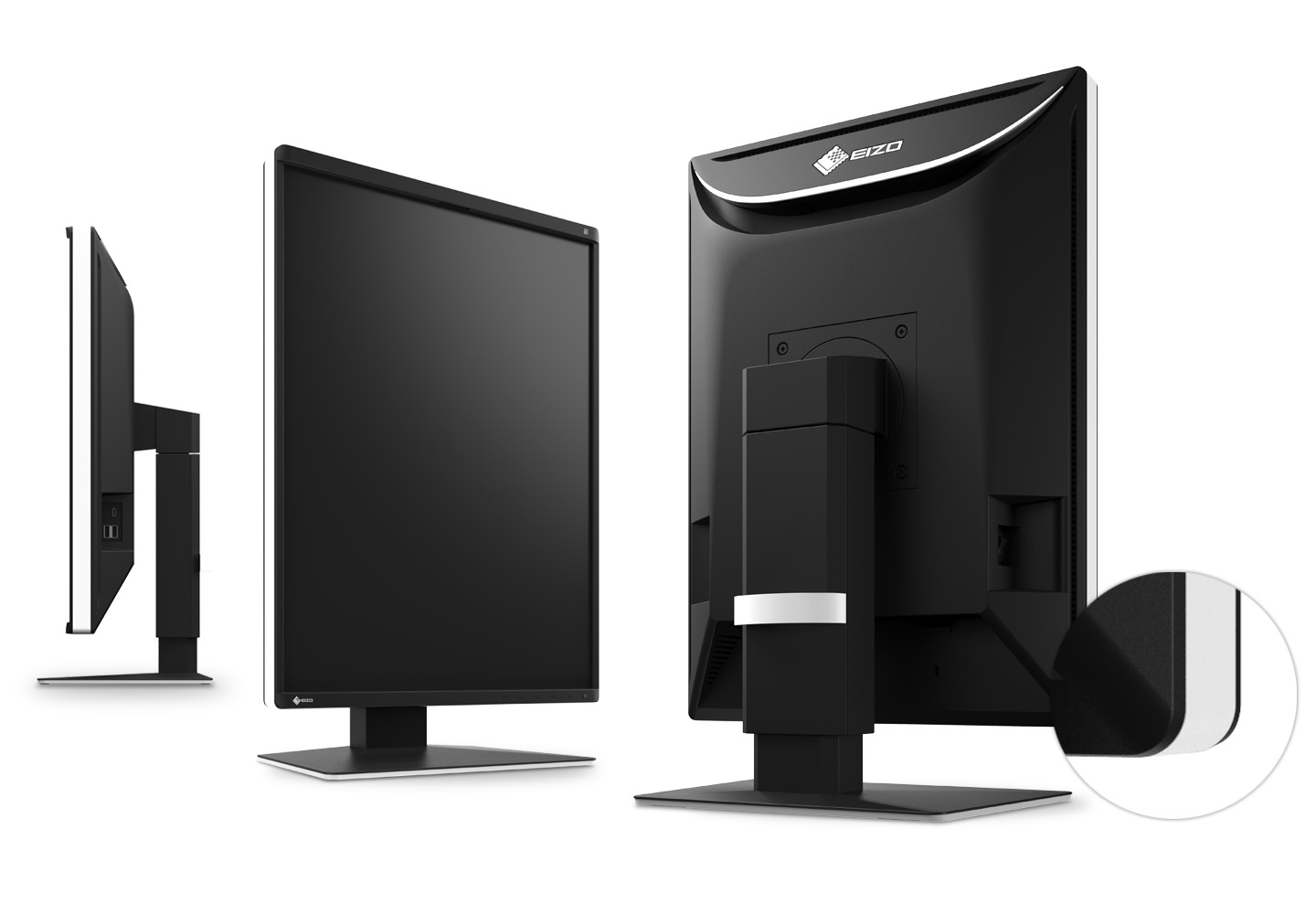 USB Hub and USB Type-C for Charging
The Eizo 3MP monitor is equipped with two USB Type-A downstream ports for connecting a mouse, keyboard, or other USB devices. It is also equipped with a USB Type-C port with up to 15 watt power supply for charging smartphones and tablets. The USB Type-C port does not allow the computer to access the device's memory or settings, so you can rest assured that it remains secure while connected.

Rest Assured with Image Consistency
Maintain Image Quality Over Time
An LCD monitor's color and brightness characteristics naturally shift with use over time. Since this occurs gradually, it can be difficult to detect when this happens. Implementing a quality control solution ensures that your Eizo 3MP monitor's display characteristics stay consistent.
With the Integrated Front Sensor (IFS) built into the front bezel of the RadiForce monitor and RadiCS LE software (included) , you can easily calibrate to DICOM Part 14 without having to mount, run, and remove an external sensor.
Simple calibration using the monitor backlight sensor is also supported.


Stay Confident with Stable Brightness
EIZO's confidence in its product quality extends to brightness stability which is also covered during the usage time specified in the warranty.
Warranty with Safety and Trust
EIZO and its authorized distributors offer a five-year full warranty.
View the full Eizo product